Once upon a time in a clearing in a magical forest – these words are very familiar to the millions of players worldwide that are hooked unto the popular mobile game Clash of Clans. This game has been topping the lists of most popular mobile games all over the app stores.
For the few people who have never heard of this game, it is a form of real-time strategy game that involves building and training units for battle, all the while keeping a form of working economy and a constant striving to compete and team up with other players all over the world.
One thing that people can attest with this game is that it is very addictive. It is a great game for casual gamers who just want to while away a few idle hours as well as for those hardcore mobile gamers who like strategy and fantasy games.

Clash of Clans is a fantasy based game- meaning the theme is set in a magical kingdom-type of place and just about all of the units and characters is either medieval or magical. What ultimately makes people come back to this game is the fun and unique kind of gameplay that it offers for players of mobile games. It combines the action of popular real time strategy games with the time-based progress of mobile and Facebook games like Farmville. One other great point of this game is that it is online and people can interact and team up with each other to compete with others in "clan" wars. The graphics also present a slightly cartoony yet stylish and even fantastic kind of feel to the game. Though the game mainly has to do with fighting, the cheerful and even cute profiles of the characters enable the game to be good for all ages.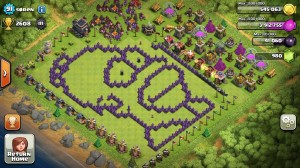 Though the game has its ups and downs as a strategy game, it prevails as an online of absolute fun. There really is a reason that people get addicted to such a widely popular game. Yes, Clash is one of those games wherein spending money on it can give one an advantage, but opting not to shell out a single cent can be just as fun. All in all, Clash of Clans is one game everyone and anyone can enjoy and love.
Disclaimer: The content of the above mobile app review are the opinions of the reviewers and is intended for informational, educational and discussion purposes only, and should not be used, interpret or relied upon as any form of recommendations. We does not endorse or accredit the mobile app. We make no representations or warranties with respect to the app for the company owned the app and the app developer developed the app.